Here is how you can integrate LeaveBoard with Slack. Once you have registered your company account on Slack, and you have also one on Slack, follow these steps:
You have to install the LeaveBoard leave tracking chatbot on your company account in Slack.
From the Menu select My company.
Go to the Integrations tab, and then click on Add to Slack.
Note: This can be done only by employees with admin access.
FAQ
I am getting an error when integrating LeaveBoard with Slack. What should I do?
1. Check that you have the same email address on LeaveBoard and on Slack.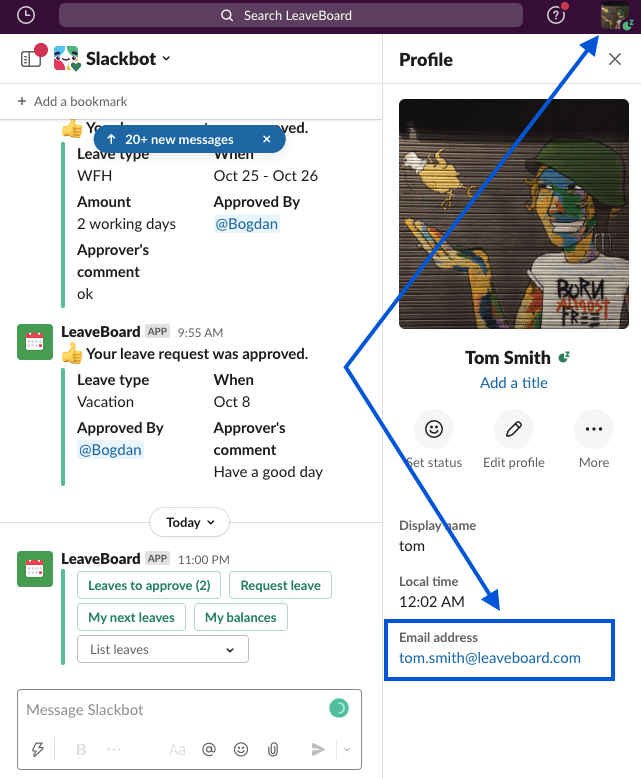 2. Check that you have admin access in Slack, meaning you can install apps with the access level that you have.
3. If you don't see your email in the profile, then change the workplace settings -> Email display settings need to be configured as for "Members and Guests", from "No one". Read more on this setting here.
How can I import the employees from Slack?
As an account administrator, to import users from Slack there are straightforward steps you have to follow:
From the Menu, select Company.
Go to the Integrations tab.
Click on the [Import employees from Slack] button.
Select the employees that you would like to import from Slack.
Click done.
To be able to import your employees correctly from Slack, please make sure they have setup both First name and Last name in your Slack account. Slack gives some tips about how to configure this in the Slack support center.