All your team needs to be onboarded and use the HR software to get the full productivity benefits of using LeaveBoard.
Here is how you can add your employee to your company:
From the Menu, select Employees.
Click on the [+ Invite employee] button to add a new employee.
Insert the First name, Last name, Work email, and Employment date of the employee.
Click on Invite. Else you can click on Continue to invite and add more to add an additional employee.
Automatically the employee invited will receive an email with the invitation to join the platform, requesting to activate the account.
How to create an employee profile, without sending an email invitation?
If you toggle off the send invitation email, you will add the employee to the database; however, the new hire will not receive an activation email. In this way, you will be able to modify the employee details such as allowances, role, team, approver before the employee starts to use the account.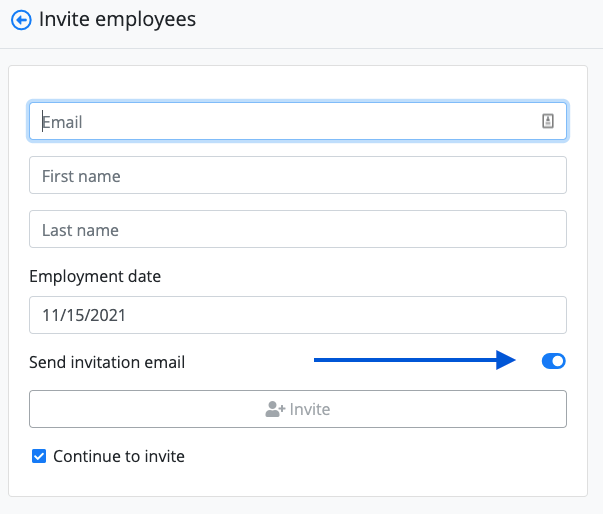 FAQ
Do you offer onboarding support to get the employee data on LeaveBoard?
We offer implementation support for companies with more than 20 employees that aim at going for a PRO or enterprise subscription. Please book a demo with one of our experts, to discuss that the HR software fit to your business, the implementation procedure, the pricing and we will get your company account configured with all the employees and correct allowances in 1-2 business days.
How to resend the invitation to LeaveBoard to an employee?
If an employee didn't receive the invitation yet, or you would like to send it again, check the following steps:
From the Menu, select Employees.
Select the employee you would like to reinvite.
On the Profile, click on the Settings icon.
From the profile settings card, click on the More icon.
Select Reinvite.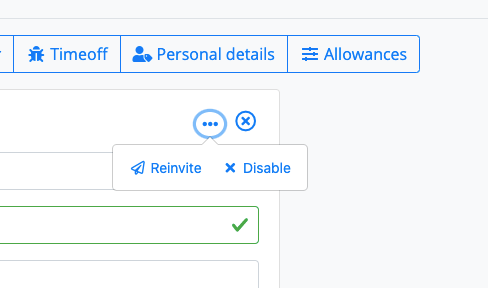 What can I do if the employee did not receive the invitation?
It happens that from time to time, emails that are sent automatically arrive in the junk/spam folder. We recommend checking that folder besides the inbox folder the invite email from LeaveBoard. See more details within the Email delivery problems.
How to find which employees haven't activated their accounts?
To find which employees haven't activated their accounts yet, follow these actions:
From the Menu, select Employees.
Click on the Filter icon.
From the status dropdown, deselect active, and leave only invited.

How to import employees from your Slack account?
If you use this communication platform, then please refer to our official support page for importing employees using Slack.
I get an error when inviting one employee. What should I do?
If the employee is part of a different company account or used the email to create a different workspace, you will not be able to invite that colleague to your account. The system will prompt an error like 'the employee is already invited'. Please send us a message with your colleague's email, and we will sort things out.