LeaveBoard has four access levels: user, manager, supervisor and administrator.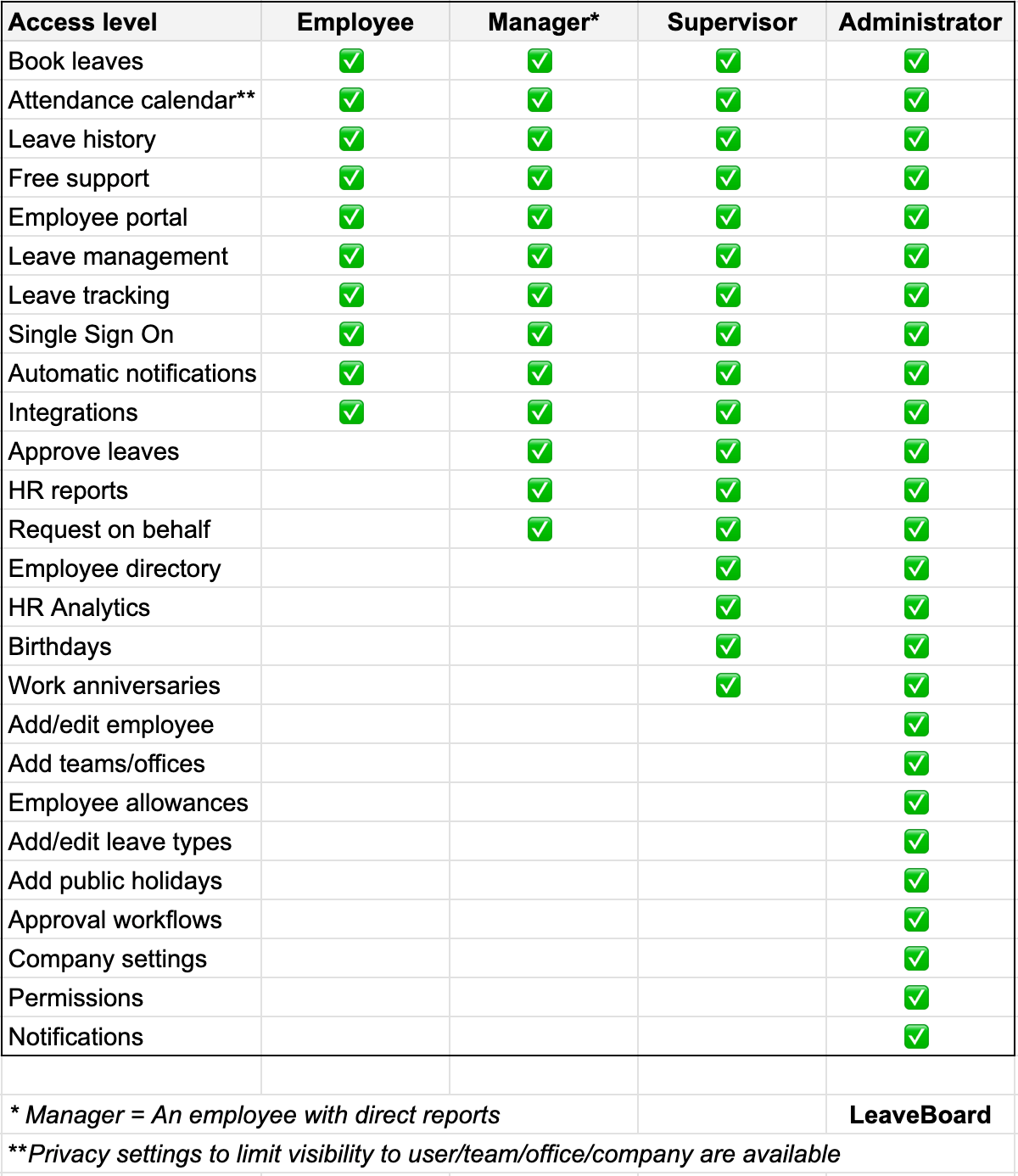 Users
As a Employee, your access level permits you to:
Book time-off
Access your leaves
Access the team calendar and personal calendars
Synchronize the calendar
Book time off via Slack
Have a status of the Time-off balance.
Leave history
Free support
Self Service HR portal
Leave management
Vacation calendar
Leave tracking
Single Sign-On
Automatic notifications
Integrations
Manager
As a manager, you will have some additional access rights than the standard employee user. Users that have direct reports automatically become managers.
Book leave
Team calendar
Approve leaves
HR reports
Add leave on behalf.
Supervisor
Supervisors practically oversee what is happening whin the company, however they don't have edit rights.
They have access to the same functionalities, plus access to the employee directory.
Administrators
As an administrator, have access to all features of LeaveBoard:
All access as mentioned above plus
Ability to invite or import employees
Ability to add or delete teams and offices.
Ability to add and configure leave policies and modify allowances
Ability to check company-wide HR reports
Ability to book time-off on behalf of your employees
Access the employee directory and edit any details
Setup notifications
Company wide-integrations - such as Slack
Control the company details and the subscription.
Modifying permission settings
LeaveBoard offers the possibility to edit the permission levels to limit access to sensitive data.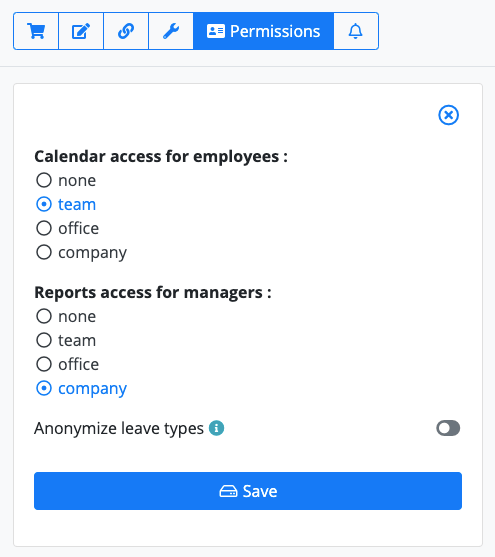 To change the permissions for your employees or managers, access the functionality available at Company > Permissions.
You can change the Calendar visibility level for users at None / Team / Office / Company from this page.
On the same page, you can restrict the access to employee data Reports at the manager's level at None / Team / Office / Company.
To add an extra level of confidentiality, you can also anonymize leave types and in this way, employee vacation and sick leave entries will be private within the user's calendars. Note that with this option active, managers, supervisors and admins will be able to see the types of leaves, and only employees with user access will be impacted by this change.
Note: Restricting access to data could also be a productivity enhancer. If your business has 200+ staff members, then providing the calendars with all 200 calendars could be frustrating, irrelevant, and difficult to follow.
Find additional informations regarding the access and permission levels.